For more than 10-years, The Victory Project, INC. (VP) has opened our doors and hearts to disengaged youth in Dayton, Ohio. Young men between 12 and 18 years old, who are looking for alternatives to the streets, find a home at VP. Where love and accountability are offered on a daily basis. Our year-around curriculum includes homework assistance, recreation, character development, access to weekly, paid jobs, financial literacy, national & international mission trips, Bible Study, healthy peers, and dinner every weeknight. All without government funding.
Part of our unique and relevant programming is the 'O.G.' Series. Instead of being an Original Gangster, a career criminal, our students become 'Overall Gentlemen. ' Defined as a provider, protector, and spiritual leader in their home. This process begins with being well informed, and here are two great examples. The top picture is V.P. Alumni, and police officer, Ashton Morgan, who shared essential insights when interacting with police.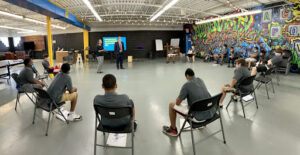 This is followed up with Attorney's Michael Dailey & Alysia Goss from the Montgomery County Public Defender's Office. Who taught how to protect your rights when dealing with authorities. In both courses, many insightful conversations were shared, which is no surprise to me.
Since the beginning, we've entrusted our students with information others believe too complicated for youth to grasp. But I've seen our young men are not only capable but hungry to learn and to be included in the community's development. But it starts with the individual.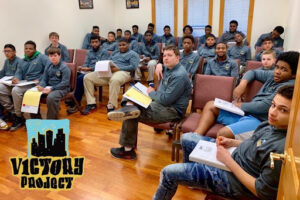 Referencing personal responsibility, President Lincoln, said, "Nearly all men can stand adversity, but if you want to test a men's character, give him power." During our hiring process, the last step an applicant must complete is an interview with our Team Captains, and it's an awesome thing to behold. 25, 35, and 45-year-old candidates sitting across from 14, 15, and 17-year-old VP Students discussing commitment and chemistry. I've had people come out of the room, saying it was one of the hardest interviews they'd ever experienced. Not necessarily because the questions are tough, but the young men have such pure motives. And to be honest, due to street-smarts, they can discern other people's intentions surprisingly quick.
So our young men help hire those who will supervise them. And right off the bat, it sets the tone of the collaboration expected at The Victory Project. An intersection of life and community, we strive to stay within.
As our nation searches for the answers to inclusion, equality, and responsibility, I'd like to direct your attention to the young men of VP. They, and others like them, have much more to offer than we give them credit for. They already have the giftedness to succeed; we're helping them realize it, 'It's less about what we Do and more about what we Undo.'