As it relates to COVID, it appears we can see the light at the end of the tunnel. Life has some semblance of normalcy, and I am grateful. But for families who already faced daily hardships before the pandemic, that light in the tunnel is the proverbial freight train.
It is true families in generational poverty have adapted over the years to find ways to navigate their circumstances, aka poverty coaching.
But this crisis is different, and we are just beginning to see the effects on children. 
A recent report by Fair Health provides some startling data on the consequence the response to COVID has had on youth. When it came to intentional self-harm, medical claims in the 13-18 age group increased 90.71 percent in March 2020 compared to March 2019.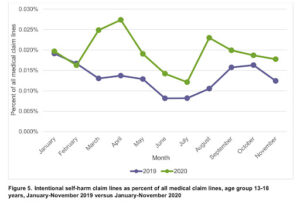 The increase was even larger when comparing April 2020 to April 2019, nearly doubling (99.83 percent).
For many people, dramatically reducing, or even eliminating, access to societal foundations such as jobs, churches, and social gatherings, was at best an inconvenience, and at worst, a downward spiral into severe emotional trauma and even death.
This is true even more for children. Referring to the Fair Health Report again, the age group 13-18, in April 2020, claims for generalized anxiety disorder increased 93.6 percent as a percentage of all medical claims over April 2019, while major depressive disorder claim lines increased 83.9 percent and adjustment disorder claims 89.7 percent.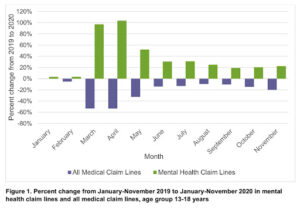 We've experienced this at home. Our 16-year old son has autism, and we rely on his teachers for their valuable guidance. Even more, we rely on a routine; his therapy is built upon this. Experts use a regular, systematic method as a way for people with autism to navigate their day. And breaking that routine for an extended period? Boy, let me tell you! We struggled for months trying to create a new schedule as we dealt with violent outbursts and regular crisis intervention from my wife, Kelly and me.
Then, just as we found a new method, his school reopened part-time (routine-change) and eventually opened full-time (another routine change). This was an overall harmful experience for our son. I'm grateful to say that now our home has returned to a sense of normalcy, and we pray our son has some new coping skills. With God's grace, it took both Kelly and me to persevere through almost a year of challenges with our family.
But what about our young men at VP and their families? Many are single parents, grandparents, or even great-grandparents struggling to try to raise one or more teenagers in poverty. The pandemic, and the government's reaction to it, have exacerbated already incredible challenges.
Here's a place to pause and recognize the pandemic is real and caused the deaths of many people. I'm not minimizing this fact. What I want to do in this article is to recognize the long-term consequences on our children of closing off access to schools and services. In addition, I want to relate how Victory Project effectively responded to address these concerns and share several important things we have learned.
First, Avoid analysis paralysis. When we knew VP was going to be forced to close for two weeks, to "flatten the curve," I did a quick assessment with our staff. My question for them was simple: How can we be an asset to our students and their families at this time?
Within hours, we retooled and began gathering tangible items which were getting very difficult to find, especially if you didn't have reliable transportation: items like toilet paper, food, and cleaning and sanitation supplies. We then set up regular deliveries to each home, all within the first days of the shutdown.
The second thing we learned was you must Re-assess or regress. When it became evident we were going to be closed for months, we pivoted again to meet the longer-term needs. We delivered classroom work and gift cards from supporters like The Connor Group, The Mark A. Kreusch Memorial Fund, and The Dayton Foundation. 
We also made a point to hang out with our students (through the screen door). We prayed and shared how much we missed them. We realized that keeping with the original plan, while basically helpful, wasn't sufficiently meeting the evolving crisis. We applied discernment throughout. This was done with the full support of our staff and their own families, who were risking their health to be present in our students' lives.
 The third lesson was Presence is greater than promises. We had made calculated decisions, early and often. Do we stay home and hopefully avoid getting sick? Or should our default be to stay tangibly engaged, while using every safety precaution necessary?
In reality, it was an easy choice. We found ways to be an asset and present with our students' families; they stayed fed, and more importantly, connected.
We are seeing evidence that the risk was worth it. The reward: rebounding grades, no serious illnesses, almost all students learning online transitioning to in-person classes, and no known student mental health emergencies. Added to these outcomes is the overwhelming financial support given to us in 2020, for which we are grateful.
When we look back at the past twelve months, we see God's grace, guidance, protection, and provision. This is no surprise at all, considering His Presence is the Promise.
Contact me if you want to learn more about how to engage with us.